Martin Luther King, Jr.
Martin Luther King, Jr. was born Michael Luther King, Jr. January 15, 1929, but later had his name changed to Martin. His grandfather began the family's long tenure as pastors of the Ebenezer Baptist Church in Atlanta, serving from 1914 to 1931; his father has served from then until the present, and from 1960 until his death Martin Luther acted as co-pastor. Martin Luther attended segregated public schools in Georgia, graduating from high school at the age of fifteen; he received the B. A. degree in 1948 from Morehouse College, a distinguished Negro institution of Atlanta from which both his father and grandfather had graduated. After three years of theological study at Crozer Theological Seminary in Pennsylvania where he was elected president of a predominantly white senior class, he was awarded the B.D. in 1951. With a fellowship won at Crozer, he enrolled in graduate studies at Boston University, completing his residence for the doctorate in 1953 and receiving the degree in 1955. In Boston he met and married Coretta Scott, a young woman of uncommon intellectual and artistic attainments. Two sons and two daughters were born into the family.

In 1954, Martin Luther King accepted the pastorale of the Dexter Avenue Baptist Church in Montgomery, Alabama. Always a strong worker for civil rights for members of his race, King was, by this time, a member of the executive committee of the National Association for the Advancement of Colored People, the leading organization of its kind in the nation. He was ready, then, early in December, 1955, to accept the leadership of the first great Negro nonviolent demonstration of contemporary times in the United States, the bus boycott described by Gunnar Jahn in his presentation speech in honor of the laureate. The boycott lasted 382 days. On December 21, 1956, after the Supreme Court of the United States had declared unconstitutional the laws requiring segregation on buses, Negroes and whites rode the buses as equals. During these days of boycott, King was arrested, his home was bombed, he was subjected to personal abuse, but at the same time he emerged as a Negro leader of the first rank.

In 1957 he was elected president of the Southern Christian Leadership Conference, an organization formed to provide new leadership for the now burgeoning civil rights movement. The ideals for this organization he took from Christianity; its operational techniques from Gandhi. In the eleven-year period between 1957 and 1968, King traveled over six million miles and spoke over twenty-five hundred times, appearing wherever there was injustice, protest, and action; and meanwhile he wrote five books as well as numerous articles. In these years, he led a massive protest in Birmingham, Alabama, that caught the attention of the entire world, providing what he called a coalition of conscience. and inspiring his "Letter from a Birmingham Jail", a manifesto of the Negro revolution; he planned the drives in Alabama for the registration of Negroes as voters; he directed the peaceful march on Washington, D.C., of 250,000 people to whom he delivered his address, "l Have a Dream", he conferred with President John F. Kennedy and campaigned for President Lyndon B. Johnson; he was arrested upwards of twenty times and assaulted at least four times; he was awarded five honorary degrees; was named Man of the Year by Time magazine in 1963; and became not only the symbolic leader of American blacks but also a world figure.

At the age of thirty-five, Martin Luther King, Jr., was the youngest man to have received the Nobel Peace Prize. When notified of his selection, he announced that he would turn over the prize money of $54,123 to the furtherance of the civil rights movement.

On the evening of April 4, 1968, while standing on the balcony of his motel room in Memphis, Tennessee, where he was to lead a protest march in sympathy with striking garbage workers of that city, he was assassinated.
---
Rosa Parks
The Mother of the Civil Rights Movement, Rosa Parks, whose actions sparked a movement that changed the face of our nation passed away at the age of 92 on Monday, October 24, 2005, in Detroit, Michigan.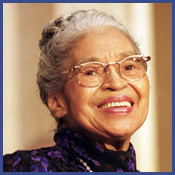 On December 1, 1955, Rosa Parks refused to give up her seat in the front of a bus to a white man and move to the back. Mrs. Parks, a seamstress in Montgomery, Alabama, states that she wasn't exhausted from a day of work as it was widely reported. "The only tired I was, was tired of giving in," she said - tired of the degradation and unjust treatment that African-Americans were subjected to daily.
"Our mistreatment was just not right, and I was tired of it," Mrs. Parks wrote in her book, Quiet Strength: The Hope and the Heart of a Woman Who Changed a Nation. "I kept thinking about my mother and my grandparents, and how strong they were. I knew there was a possibility of being mistreated, but an opportunity was being given to me to do what I had asked of others."
Her defiance sparked the famed 1955 Montgomery Bus Boycott. The boycott, led by Rev. Martin Luther King, Jr., lasted more than a year and opened the door for anti-segregation legislation and a Supreme Court ruling to ban segregation on public transportation. By December 1956, the buses in Montgomery were officially desegregated.
Not the accidental activist, Mrs. Parks had been active in the movement for change for some time. She was secretary of the local chapter of the NAACP for 12 years before her noted arrest. And rarely is it mentioned that Mrs. Parks' most noted bus ride was not her first act of defiance on a Montgomery bus. During the 1940s she refused several times to abide with segregation policies while riding the bus. Coincidentally, the same bus driver who had her arrested in 1955 had ejected her from his bus a decade earlier for not complying with orders to move to the back of the bus. Also during the 1940s, Mrs. Parks organized the NAACP Youth Council and its members also defiantly rode in the front seats of buses.
Unable to find employment in Montgomery because of the boycott, Rosa and her husband Raymond moved to Detroit. While continuing to work for the NAACP, she was hired as office manager for U.S. Congressman John Conyers, Jr.'s Detroit office in 1965. In 1987, Mrs. Parks created The Rosa and Raymond Institute for Self-Development, an organization to motivate multicultural youth to reach their highest potential by using her philosophy of Quiet Strength and to also provide them with a cross-cultural exposure for nurturing a global and inclusive perspective.
Numerous honors have been bestowed upon Mrs. Parks including dozens of honorary doctorates from universities around the world, the Martin Luther King, Jr. Award and the Presidential Medal of Freedom in 1996. She was inducted into the National Women's Hall of Fame in 1998 and awarded the Congressional Gold Medal of Honor - the highest award given by the United States government - in 1999.
Rosa Parks, a modest, and peaceful woman, was one of the greatest civil rights leaders in the United States. One way to remember her courage is to follow her example: "to bring peace, justice, equality, love and a fulfillment of what our lives should be. Without vision," she told us, "the people will perish, and without courage and inspiration, dreams will die - the dream of freedom and peace."
We honor her memory by redoubling our efforts in the fight for social and economic justice.
---
Fannie Lou Hamer, Co-founded the Mississippi Freedom Democratic Party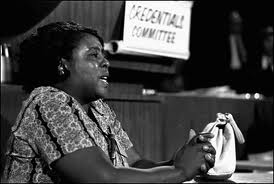 Fannie Lou Hamer, known as the lady who was "sick and tired of being sick and tired," was born October 6, 1917, in Montgomery County, Mississippi. She was the granddaughter of slaves. Her family were sharecroppers - a position not that different from slavery. Hamer had 19 brothers and sisters. She was the youngest of the children.
In 1962, when Hamer was 44 years old, SNCC volunteers came to town and held a voter registration meeting. She was surprised to learn that African-Americans actually had a constitutional right to vote. When the SNCC members asked for volunteers to go to the courthouse to register to vote, Hamer was the first to raise her hand. This was a dangerous decision. She later reflected, "The only thing they could do to me was to kill me, and it seemed like they'd been trying to do that a little bit at a time ever since I could remember."
When Hamer and others went to the courthouse, they were jailed and beaten by the police. Hamer's courageous act got her thrown off the plantation where she was a sharecropper. She also began to receive constant death threats and was even shot at. Still, Hamer would not be discouraged. She became a SNCC Field Secretary and traveled around the country speaking and registering people to vote.
Hamer co-founded the Mississippi Freedom Democratic Party (MFDP). In 1964, the MDFP challenged the all-white Mississippi delegation to the Democratic National Convention. Hamer spoke in front of the Credentials Committee in a televised proceeding that reached millions of viewers. She told the committee how African-Americans in many states across the country were prevented from voting through illegal tests, taxes and intimidation. As a result of her speech, two delegates of the MFDP were given speaking rights at the convention and the other members were seated as honorable guests.
Hamer was an inspirational figure to many involved in the struggle for civil rights. She died on March 14, 1977, at the age of 59.