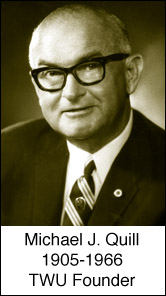 APPLY FOR THE QUILL SCHOLARSHIP
TWU is now accepting applications for the Michael J. Quill Scholarship Fund. This scholarship will offer 15 college-bound dependents of TWU members with a scholarship worth $4,800. This scholarship will be paid out per year in the amount of $1,200 to winners who continue to be eligible over their four-year course of study.
The union has been honoring our founder with these scholarships since 1969. Quill Scholarship awards have benefitted hundreds of TWU families. Children of our members in transit, railroad and air transportation, utilities, public employment, space installations, and allied industries are among those who began their college educations with the help of TWU's signature scholarship.
This year, we are honored to have four additional sponsors, which will add another 21 scholarships: Union Benefit Planners, M3 Technology, Pitta LLP & Pita, and Bishop & Del Giorno LLC. All of the above sponsored scholarships will be paid out in the first year, as a single scholarship. The 2022 application can be found here.
Remember, the deadline to apply is April 25, 2022.
Download:

Scholarship Application 2022.pdf
More Information:
2020 Scholarship Winners
2019 Scholarship Winners
2018 Scholarship Winners