Employee Assistance Program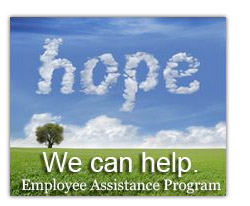 Our Employee Assistance Program is to provide the highest quality support, counseling, referral, follow-up and resources for employees, retirees and their family members with problems of Alcohol/Drug addiction, psychological issues, stress, depression and family or marriage conflicts. EAP also does Critical Incident Management when a tragic or stressful incident occurs. The EAP not only offers solutions but also focuses on prevention. We are dedicated to responding quickly to the needs of the individual, making confidentiality a top priority.
Work stresses affect our lives and personal challenges affect the way we function at work every day. It is important to encourage early detection of issues before they affect his/her job performance and provide a resource for troubled employees to reduce problems that can affect the workplace and home. We reduce traditional barriers for seeking help and are committed to provide a non-threatening environment that makes every effort to put the individual at ease.
We strive to improve an individual's quality of life. Members and Loved one's wellbeing is our mission.
"Improving Life"
That is Our Promise – That is Our Vision!